EFFECTS OF WEARING YOUR UNDERWEAR THE WRONG WAY. Maybe you are the type that sticks to cotton briefs or one of those adventurous types that always rocks the things, one thing you should know – since you probably don't worry about your underwear the same way you worry about your clothes – is that your underwear choices have a serious impact in the health of your vagina and the general comfort of your lady parts.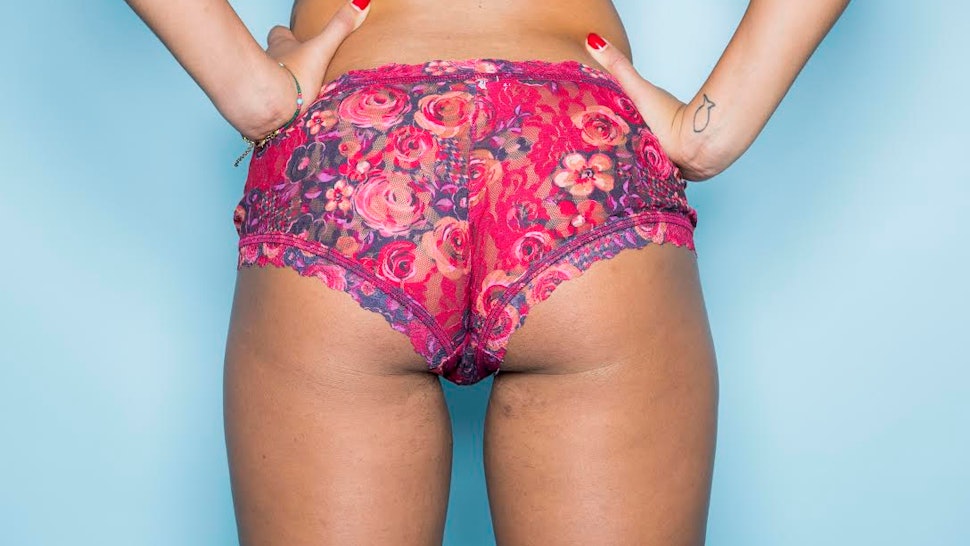 Of course, everyone has their own tried and true preferences that work for them, and no two ladies are the same so while it's possible for lace to irritate the crap out of one lady, another lady may be able to rock lace underwear on a regular.
Besides, even the supposedly "right" underwear can sometimes result in serious health if you don't wear them right – may be too wet or too tight. The type of underwear you wear, while keeping your daily habits in mind can have a great effect on the health of your lady parts.
There are some ladies whose underwear drawer probably contain all kinds of underwear, and who might even have some days where they just give up and go commando. However, no matter what your preferences are, you need to be aware of the negative effects of wearing your underwear the wrong way and how it can affect your health, considering how prone the vagina is to irritation and infection.
Here are 4 things to keep in mind how your choice of underwear can negatively affect your health.
IF IT'S TOO TIGHT, YEAST AND INGROWN HAIRS ARE THERE TO STAY
If you aren't already aware, the skin around your vagina is much thinner and more sensitive than the skin on the rest of your body. Therefore, wearing underwear that properly fits you is very important because super tight underwear results in an uncomfortable amount of friction which in the best case scenario leads to irritation and at worst, ingrown hairs.
In addition to that, wearing tight undies allows moisture and heat to build up in and around your vagina which creates the perfect atmosphere for bacteria to grow and also contributes to the overgrowth of yeast resulting in infections. This is made even worse by wearing synthetic and non-breathable fabrics like lace which both irritate your vagina and also increase your risk of infection.
To prevent this, the best fabric for your vagina are breathable ones like the seamless and cotton panties. No matter how sexy lace, nylon or polyester panties look, they aren't worth it, unless you are wearing them for a short period where they are appreciated – maybe during a quick showoff to your partner – and then taken off immediately.
THONGS AND E. COLI
Okay, don't freak out if you are one of those that love to rock thongs on a regular or wear them when you are trying to avoid showing panty lines. It's not that you should toss out all your thongs and never wear them again, just keep in mind a few things about how they can negatively affect you.
You see, because thongs literally get inside your butt crack, chances are they would be sliding around quite a bit, which means they can very well transfer the E. coli bacteria from your butthole into your vagina. Also, if you were already prone to UTIs, vaginal irritation and yeast infections, wearing the wrong thong could worsen these conditions.
But hey, if you really want to keep wearing thongs, at least find one that fits well so it doesn't go sliding all over the place but not too tight at the same time. Definitely avoid fabrics that could itch – like lace.
SHAPEWEAR DOES MORE THAN JUST CUTTING BELLY FAT
The last thing we want to do is shame shapewear but they can actually be pretty bad for you if you wear them for too long or if they are too tight. Isn't that the point, you ask? After all, if it's not tight, would it give you that hot trim figure you desire?
Here's the thing, if your shapewear is too tight, it reduces the circulation of blood in your body and that can damage your nerves. Not to mention it can indirectly lead to UTIs. How that happens is that, since it makes it difficult for women to use the toilet while wearing shapewear, they tend to hold things in longer than they should and that can cause a UTI when urine stays too long in the bladder.EFFECTS OF WEARING YOUR UNDERWEAR THE WRONG WAY.
Not that shapewear are all bad, but if you want to keep wearing them, at least pee frequently enough that you don't put yourself at risk of a UTI.
Apart from that, those high-waisted shapewear that cover your whole stomach can quash food digestion and cause gas and bloating. Now add tight high waist shapewear and you find that it literally compresses your stomach, intestine, and colon which at best would make heartburn or acid reflux worse and at worst result in incontinence and erosive esophagitis. Yeesh!
WET OR SWEATY UNDERWEAR IS A BIG NO-NO
You may have already been told that it's bad for the health of your vagina if you go sitting around in a wet swimsuit, but the same can be said for sweaty or wet underwear. If you are the type that sweats a lot, you should be aware that just changing your underwear just once daily is probably not going to be enough to keep the yeast infections at bay.
Always have a spare underwear handy.
On those days that you know you'll be hitting the gym or going for long walks or spending your workday constantly on the move, endeavor to change your underwear as soon as possible after such a workout because all that sweaty wetness is a potential breeding ground for bacteria and yeast.
And we all know those kinds of infections are the absolute worst because of how gross and irritating they can get.