Alice Marie Johnson, 63, who has spent the last 21 years of her life in prison for a drug-related crime, had an emotional reunion with her family immediately following her release.
Alice was sentenced to life in prison but after Kim Kardashian spoke with U.S. President Donald Trump, pleading with him to commute her sentence, the grandmother was pardoned and set free by Trump.
Johnson reunited with her family on Wednesday, and it was the most joyous scene ever! In a video, Alice, who was driven a short distance away from Alabama's Aliceville Correctional Facility, bolted into the arms of loved ones waiting for her on the roadside.
According to CNN, speaking to reporters outside the scene, Johnson said:
"I feel like my life is starting over again.
I started screaming, and crying and jumping. I think I lost it for a moment.
I want to tell Kim, my angel, that you never gave up on me. You never gave up your fight. You were relentless and it has paid off beautifully for me and my family on this day.
It means that someone finally saw me, someone finally heard me, someone had mercy on me — and that was President Trump, and so I'm so thankful for him and what he's done.
I am going to make you proud that you gave me this second chance in life. And I will not disappoint the American public or the world that has so much faith in me."
See photos and video below: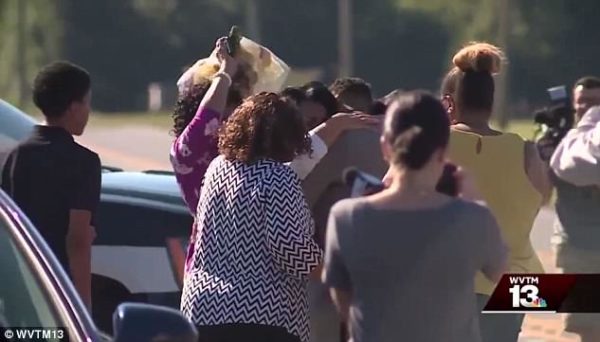 Alice Marie Johnson is emotional and greeted by dozens of family members as they see her for the first time since she's been free. Johnson says she's thankful for this second chance and is ready to get back home and spend time with her family @WCBINEWS pic.twitter.com/oMyqrmaQi4

— Quentin Smith WCBI (@Q_Smith_) June 6, 2018