DATING SCAN.Doing  a scan in the first few months of your  pregnancy can be a very interesting experience. It's unbelievable  to see the little blob with a heartbeat that will soon become your baby.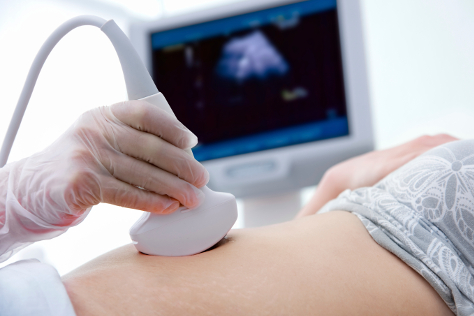 When can I have my first scan?
For most mums-to-be, the first scan will be a dating scan at between 10 weeks and 13 weeks plus six days of pregnancy.
However, the timing of your first scan will also depend on how your pregnancy is going. Your midwife may recommend an early scan at between six weeks and 10 weeks if you have experienced bleeding.
You might also be offered an early scan if you've had a previous miscarriage. You might not necessarily be given an early scan if all is going well in this pregnancy. But ask your doctor if you want the reassurance of an early scan.
Is a dating scan accurate?
The  main purpose of the scan is to work out accurately how many weeks pregnant you are and estimate your due date.
You may have calculated the length of your pregnancy from the first day of your last menstrual period (LMP). This is even though you don't actually conceive until 14 days after your LMP, or later than this if your cycle is longer than 28 days. You probably know when your LMP was, but not when you actually conceived. If you do know the conception date, this is counted as day 14, and not day one.
If your cycle is irregular, or if you've recently been taking the contraceptive pill, working out the date from your LMP isn't a very accurate method. Scans are more accurate. If the scan date differs from your period dates, the scan date will be used.
The scan date is usually later than the period date, so accurate dating reduces the number of women having labour induced because their babies are thought to be overdue. It may also help you to avoid feeling disappointed if you think your baby is late when he's not.
What else will i know with the dating scan?
The scan can check that your baby has a heartbeat and is developing normally. Your baby's head, limbs, hands and feet, and some organs can be seen. Looking for abnormalities isn't the purpose of this scan, though. That's the job of your next routine scan at about 20 weeks, when more detail can be seen as your baby grows bigger.
However, some major problems can be seen at your dating scan, such as problems with your abdominal wall or with your baby's skull. You may need a second scan to check the first scan's findings.
The dating scan will also show the number of babies you're expecting twins, triplets or more. It's very helpful to know about twins early on, as it's easier to see whether or not they share a placenta. Finding out about having twins early in pregnancy also gives you more time to prepare for the birth and for your doctor or midwife to plan your care.
Knowing about twins early is also useful if you want to have screening for Down's syndrome. This is because blood tests for Down's syndrome are not very accurate if you are having more than one baby. Instead, you will be offered a nuchal translucency (NT) scan. This measures a collection of fluid under the skin at the back of a baby's neck.
What happens during the dating scan?
The dating scan will take between five minutes and 10 minutes.
Nearly all scans after 10 weeks can be done through your tummy, and most units ask you to come with a full bladder. The sonographer will put some gel on your tummy and will move a small hand-held device (a transducer) over your skin to get views of your baby.
If your uterus (womb) is very deep in your pelvis, or if you're overweight, you may be offered a vaginal scan, which can get nearer to your baby. It shouldn't be uncomfortable, and you don't need a full bladder.
You'll be given a report of the scan which will tell you exactly how many weeks pregnant you are. Keep it with your maternity notes so your midwife and anyone else involved in your care can see it.
Check out WHEN TO HAVE YOUR FIRST SCAN?
How big will my baby be at the dating scan?
Your baby is measured from head to bottom. This measurement, known as the crown rump length (CRL), is very accurate in the first trimester. After 13 weeks your baby can curl up and stretch out, so measuring the length becomes less accurate. Then the circumference of the head becomes the best way to measure your baby:
         At 10 weeks, your baby measures about 3cm (1.2in)
         At 12 weeks, he measures between 5cm (2in) and 6cm (2.4in)
         At 13 weeks, he measures about 7cm (2.8in)
Can I have a screening test at the same time?
Some hospital  offer a dating and screening scan at the same time. If you are having a screening test for Down's syndrome, you'll be offered a dating scan first. The test needs an accurate due date to be reliable, as hormones in your blood vary according to your stage of pregnancy.
Without an accurate due date, a blood test at what you thought was 13 weeks wouldn't be helpful if you were 16 weeks pregnant when the blood was taken. It may lead to you being given a high risk factor when your baby is actually developing normally (false positive result).
Nuchal translucency can be measured from 11 weeks to 13 weeks plus six days, or when the head-to-bottom measurement (CRL) is 45mm to 84mm. This estimates the risk of Down's syndrome and other chromosomal abnormalities.
A combined NT scan and blood test gives a more accurate diagnosis than an NT scan alone. This is available in most areas of the UK.
Are there any disadvantages to having a scan?
Sometimes, having a scan can cause unnecessary worry. It may show a very minor problem, or something that may get better on its own.
As with all screening tests, there can be false positive and false negative results. For example, about one in 20 women will appear to be at high risk, from the nuchal translucency scan to assess the risk of Down's syndrome. However, most of these babies will turn out not to have Down's syndrome.
It is entirely up to you whether or not you have a scan. You could have a dating scan, without NT screening, or even change your mind on the day of your scan. Your sonographer will support your decision, either way. It's worth knowing that there's no evidence that scans are unsafe for you or your baby.