SYMPTOMS OF A BABY BOY. Hurray, you're pregnant! I'll bet you can't wait to know what color of baby clothes to buy and you'll be wondering if the little bundle of joy growing inside you is a cute little boy or a pretty little girl.
Normally the sex of your baby is genetically determined from the moment conception takes place, but the sex organs don't start developing until well past 11 weeks, not to mention the ultrasound may not be able to confirm your baby's gender until you are at least four months along.
But what if you could tell by yourself? What if there are certain symptoms you can look out for that indicates if you'll be the proud mum of the cute baby boy you've always wanted? This might sound like an old wives tale, but it is very true.
We'll be giving you the rundown of the different symptoms of a baby boy during pregnancy, from the more reliable old wives tales to actually researched points.
One of the symptoms that can indicate that your baby is a boy is when you experience less vomiting. Studies have suggested that the higher hormone levels in female babies are associated with extreme morning sickness while the hormones are lower in male babies, hence the milder morning sickness.
Although this has been found to be right in most cases, you might not be able to tell if the baby is your first child.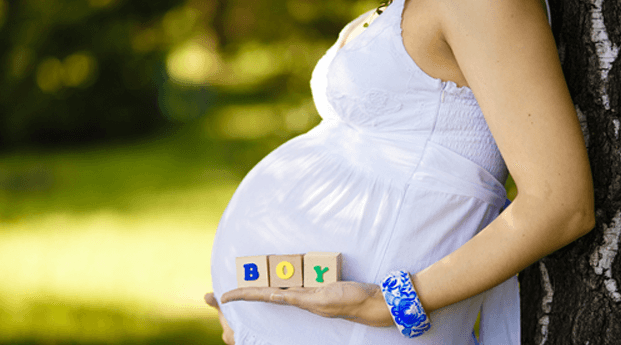 There is an old tale that says when you are having a baby boy, your skin is more likely to be smoother and free from acne – because of the absence of those pesky female hormones – and your hair becomes shiny and thick as a benefit from the extra male testosterone.
There is some truth to this as a study in France stated that a woman is at least 90 percent more likely to give birth to a girl if she has acne breakouts during her pregnancy.
Another story says that expecting mums carrying boys tend to have larger appetites than those carrying girls.
There is now research that backs this old wives tale. It was found that on average, pregnant mums with male babies ate at least 10 percent more food, or had more cravings than those with female babies.
This is because male babies have higher energy requirements than females and it translates into larger cravings and a bigger appetite.
So if you find yourself craving even more food than usual, chances are your baby is a boy.
Surprised?
It's been said that dads to be who gain more weight during their wives pregnancies are more likely father baby girls.
On the other hand, if your partner starts to lose weight during your pregnancy, chances are your baby is a boy.
This might sound outrageous but there is a Danish study to support it; Weight loss in a daddy-to-be equals baby boy while weight gain equals baby girl.
Usually, when you try to guess if your child is a girl or a boy, you'd expect to be right maybe 50 percent of the time.
However, a study has shown that your maternal instincts – where you just have a gut feeling – tend to be correct more often than not, and mums-to-be have correctly guessed the sex of their babies about 70% of the time.
This is more than enough evidence to show that you can do it. After all, a mother knows best.
Whether it's your first baby or your fifth trust your gut instincts when it comes to your baby's sex.
CHANGES IN YOUR PERSONALITY
There is a lot of studies that show that the sex of your baby generally contributes to changes in your behavior and personality during pregnancy.
If you become aggressive, dominant and bold during your pregnancy, chances are you will give birth to a baby boy. This personality change has been linked to the increase in testosterone levels seen with male babies.
HOW YOUR BODY GAINS WEIGHT
There is another well believed story that due to the increase in estrogen levels during a baby girl pregnancy, the mum to be gains heavy weight around the bum and hips or distributed all over her body, including her face while on the other hand if the extra pounds are most visible out front – that is larger bump – it's highly likely the baby is a boy.
There seems to be some truth to this, the nature of your weight gain can also indicate the gender of your baby.
CRAVING SOUR FOODS INSTEAD OF SWEET ONES
There's a saying that if you start craving sour, savory or salty foods, your baby is a boy while the opposite is the case for a baby girl.
While we still don't fully know why this is, some studies have speculated that as the little boy inside you grows, he is continuously sucking up all your nutrients and what you are craving are the things your body is running out of.
Whether this is true or not, it doesn't hurt to pay attention if or when it happens during your pregnancy.
YOUR BABY HAS A LOWER HEART RATE
It has been said that if your baby's heart is pumping less than 140 beats per minute, you should start painting your nursery blue in anticipation of your baby boy.
This may sound like a complicated medical statement but research carried out in the early 2000s found that baby boys' hearts beat a bit slower than baby girls and that even during labor, the heart rates of female babies are usually faster than male babies.
However, if you are still having doubts, and don't want to get an ultrasound for some reason, there's always the final indicator: Birth.
This is the most definite result, besides, for each pregnancy, there's a 50% chance of having a baby boy.