TIPS FOR GETTING PREGNANT
Getting pregnant is not really a defined science since Mother Nature also chips in a little of her magic. There are some thingsthough that you can do to move you in the right direction. Once you decide to start trying for a baby, go for it and don't look back.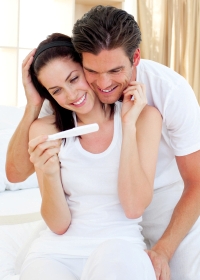 Get a full checkup      
A full body checkup is essential to determine the state of your body. Are you able to carry a fetus? Are there any underlyingmedical conditions that may pose a danger to the fetus? What effect has your lifestyle had on your fertility? TIPS FOR GETTING PREGNANT.
All these questions and more have to be answered and remedied where possible. The doctor can then prescribe prenatal vitamins before you conceive. Folic acid works early on in conception so take it as early as possible. Iron supplements also boost your fertility.
Track your cycle
The average length of a menstrual cycle is 28 days. The length varies from woman to woman though. The first day of your period is counted as the first in your cycle. Keep a calendar and mark the dates over a few months and you should be able to identify how long your cycle is.
Ovulation occurs halfway through your cycle so on day 14 in a 28-day cycle or day 17 in a 35-day cycle. Changes in basal body temperature, consistency of vaginal mucus and abdominal pain also indicate the onset of ovulation.
Have more sex, especially just before ovulation
Pregnancy occurs through sex but those with busy schedules may forget to factor it in their calendars. The eggs released after ovulation live between 12 and 24 hours only while sperm lives for up to 6 days. Timing sex just before ovulation will ensure that once the egg is released there will be some sperm waiting to fertilize it.
Planning for sex may become tedious and lose the fun. Try and make it fun as though it was for recreation and not procreation. This will take the pressure off of you and increase your chances of conception.
Watch your diet
Some foods are said to make you more fertile so try them out. Eating healthy will generally improve your chances of conceiving so take out the fruits and vegetables.
Relax
Stress hormones impede the action of pregnancy hormones and therefore stress reduces your chances of conception. Take some time to unwind and relax. Think happy and positive thoughts and the positive energy flowing through you should attract more positives to you.